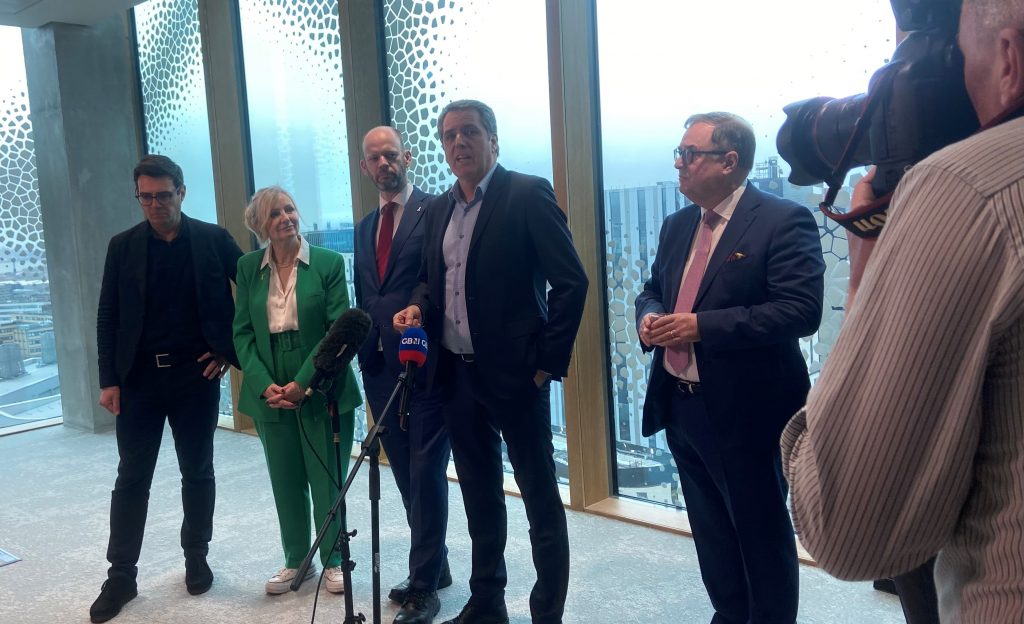 Exclusive: Northern mayors on their wishlists for 'deeper devolution'
Northern Labor mayors are urging the government to give them more powers over transport, land value raising and skills, amid fears by some that transport and education ministries in particular do not fully agree with Michael Gove's upgrade program.
The Communities Secretary told LGC at last week's Northern Convention that he was "interested in looking at" increasing land values ​​and business rates when it comes to delegate more fiscal powers.
On the same day, Mr Gove held private talks with Mayor of Greater Manchester Andy Burnham, Steve Rotheram from the Liverpool City region, Jamie Driscoll from North Tyne and Tracy Brabin from West Yorkshire about the additional powers they want. following the commitment of the white paper. to "deeper devolution".
Here's what these mayors told LGC about what they want from government.
Frustration with 'beauty pageant' bidding
Mr Rotheram said he told Mr Gove during their discussion how the Government was 'sucking the oxygen' out of Combined Authorities by making them bid for one-off pots of money. "It's a beauty contest. Strategically, we put in our 'local industry strategy' – then it became the 'recovery and growth plan' – now it's our 'prosperity proposals'. But it's the same thing, just updated. "
Mr Rotheram said Mr Gove 'recognized that it is not a good use of resources to have to continually bid against each other'. "He said there has to be an element of competition, which is what you expect from a free market specialist. But he thinks there's a better way to do things – so there's at least one acknowledgement [of the issue]."
Skills
Mayors including Mr Burnham, Mr Rotheram and Ms Brabin are calling for more powers over skills funding. Ms Brabin, who has powers over transport, housing, regeneration, finance and policing, expressed frustration at not yet having control of adult education budgets.
She explained to LGC that her combined authority "recovers a lot of people who could have benefited from early intervention, after 16 years" in adult education. "We don't have that responsibility…it will obviously be something that we will look into in more detail on what the government means by 'more devolution' because Michael Gove may be interested in that," he said. she declared.
Greater Manchester and the West Midlands, which are about to start what the government has described as 'deeper devolution arrangements' as 'frontier' areas, have taken control of their adult education budgets by 2019, but called for more powers over skills funding, including for training and apprenticeships for 16-18 year olds,
Mr Burnham told LGC that having "more power over skills" is "essential to our future prosperity, to be able to develop a pipeline of talent linked to our growing industries".
Meanwhile, Mr Street tweeted that his team will 'push for more powers over skills, trade and investment, and net zero under a groundbreaking development deal'.
Regional Wealth Funds
Many English Underground mayors have called for more taxing powers, led by North Tyne Mayor Jamie Driscoll, who wrote a report last year claiming up to £500m of extra investment could be created in its region through a new combined authority led by regional wealth. funds to provide local businesses with access to capital and investment. It calls for an "invest to save" approach to long-term health issues, investing the money saved from improved housing and public transport upfront.
"We need more innovative programs like a regional wealth fund so we can invest in our SMEs," he said. "We're already doing it, and it's working – I can prove it. But I want to do it on a larger scale. Otherwise, the upgrade won't be a 20-year mission, it'll be a 100-year mission."
Mr Driscoll told LGC that his combined authority can create jobs through investments that would generate a return for the Treasury, and believes that every pound spent on job creation 'generates £3 for the Treasury in payroll taxes alone'. "Just give us more money – give us 10 times more and you will get 30 times more."
Land value capture
Mr Driscoll, Mr Rotheram and Mr Burnham all cited land value capture, where a charge is applied on the sale of land or property that has increased in value as a result of an investment public, as something they wanted to exploit.
"If we have the power to capture the increase that would come from land values ​​in Bradford or the cities of Manchester and Liverpool, with the full Northern Powerhouse Rail, then maybe that money can be brought back to pay for the infrastructure throughout its lifetime. Mr. Burnham told LGC.
Mr Rotheram said fiscal decentralization was not "just about capturing land value", but was looking at "all the different models". "We've said on HS2 and Northern Powerhouse Rail that it's a way of offsetting some of the costs. If we're going to build a new station – imagine if we did something really iconic like a footbridge – we could sell plots around it, and it would give a boost to the businesses associated with it.
Mr Rotheram claimed rising land values ​​is 'one of the things' that Transport Secretary Grant Shapps is 'looking at for us' – but added that 'it will be a Treasury decision'.
Business rates
Mr Gove cited corporate tariffs as something he was willing to look into, but Mr Driscoll expressed mistrust of corporate tariff retention schemes, warning that there is "a big danger that this will only become a reduction of the reductions in the north".
North of Tyne was part of a pilot scheme to retain 75% business rates in 2019-20, while authorities in Greater Manchester, the Liverpool City area, Cornwall, West England, the West Midlands and the Greater London Authority (GLA) are expected to retain an increased proportion of business fares in 2022-23.
Mr Driscoll pointed out that in the North East the base business rate is £300 per head, while in London it is £940. "If they say 'you want money, tax your people', that doesn't work for areas that are currently poor," he said.
Changes to the railway plan
The Integrated Rail Plan (IRP) released in November sparked outrage from some Northern leaders because it proposed scrapping the eastern branch of HS2 between the East Midlands and Leeds, and did not use new lines for the project complete Northern Powerhouse Rail reinforcing east-west connections.
Mr. Burnham, Mr. Rotheram and Ms. Brabin claim that an assessment of an upgrade to the integrated railway plan has never been carried out by the Ministry of Transport and that it should now be carried out in order to achieve the company's own objectives. government upgrade.
West Yorkshire will only receive around £7billion from the £96billion plan, including £6billion for the electrification of the trans Pennine line and £1billion for the electrification of the line between Bradford and Leeds.
Ms Brabin told LGC she believed the decision not to deliver the former Northern Powerhouse Rail 'was not pressure from the Treasury'. She fears that other Secretaries of State will not participate in the leveling program to the extent that Mr Gove is.
"I hope it's not just Michael Gove leading the charge [on levelling up] – the only voice around the Cabinet table," she said. "It has to be every department that does an audit, an impact assessment of everything they do and how it impacts the higher level ."
Ms Brabin described the integrated rail plan as "incredibly disappointing". "We are told to be grateful for what we have been given. I don't regret the success in London… But in fact it's just not fair that we don't have the same chances in life for our young people."