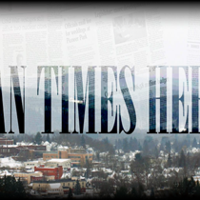 Farmersville City Council asks IDA Alle-Catt PILOT | New
FARMERSVILLE – Three Farmersville City Council members have approved a resolution asking the Cattaraugus County Industrial Development Agency to approve a payment-in-lieu-taxes agreement for the Alle-Catt Wind Farm.
Invenergy, a Chicago-based company, first proposed the 340-megawatt project — with 117 turbines on 30,000 acres in six cities and three counties — in 2017.
The cost of the project has been set at $454 million. Alle-Catt offered PILOTS totaling $3.2 million per year and $2.7 million in annual payments to tenants.
In Cattaraugus County, wind turbines and project infrastructure would be located in Farmersville, Freedom and Machias. The Allegany towns involved are Centerville and Rushford. The town of Arcade in Wyoming County is also included.
Farmersville Administrator Pamela Tilton sponsored the resolution asking the Cattaraugus County IDA to grant a PILOT agreement.
Administrators Richard Westfall and Dale Scurr joined Tilton in supporting the resolution, while Assistant Supervisor Mark Heberling abstained. Supervisor Francis Lounsbury is ill and did not attend the meeting.
Tilton did not return calls seeking comment on Thursday.
IDA has not received an application for a PILOT for the project, according to IDA Executive Director Corey Wiktor.
The position of the IDA board has been that it will not consider giving tax relief to a project that residents do not support. The council also noted that the project is not in line with the county's overall plan which emphasizes tourism and the rural nature of the county.
The Cattaraugus County Legislature unanimously opposed IDA offering Alle-Catt tax relief in a resolution approved in 2018.
On April 13, at a meeting chaired by Tilton, the three board members present voted in favor of an option to facilitate an agreement with the host community regarding the Alle-Catt project. That was the resolution presented at Wednesday's meeting.
"I abstained," Heberling explained Thursday. "They put the cart before the horse." Board members are seeking to tie the host community agreement to a PILOT, he said. "Invenergy cannot build without PILOT"
Heberling pointed out that Westfall is a tenant with Invenergy.
"It looks like an ethical issue, but there's no teeth in enforcing it," he said of any action that might prevent Westfall from voting on a project that he could personally benefit from. "He signed a resolution to try to influence the IDA."
City council members moved from first to favoring the Alle-Catt project and its 60-foot wind turbines, to adding new restrictions and fighting the developer, and now back to favoring the project with a margin of 3 to 2.
"I don't think it means much," Heberling said of the resolution. "I don't think the county legislature is going to budge on this stuff."
Heberling said, in his view, the resolution was "fundamentally flawed because it assumes that the Alle-Catt Project is 'moving forward.' it's not too late".
This is premature because Alle-Catt's certification by the New York State Public Service Commission requires Invenergy to meet more than 100 separate conditions.
Heberling said that unlike other New York wind farms, Alle-Catt "hasn't even started the compliance process."
The resolution, he said, was based on circular logic "because it argues that the loss of IDA funding could cause the project to fail, so the board must put pressure on the 'IDA for her to reconsider'.
Heberling's wife, Ginger Schroder, is a member of both the county legislature and the IDA.
Heberling added that Invenergy's Article VII certification for a transmission line between the project and Arcade "is at best halfway through this process. The company cannot move forward until its application (for the transmission line) is approved.
He said Tilton voted in 2019 to enter into a host community agreement with Alle-Catt which depends on a PILOT
It was a year after county lawmakers voted to direct IDA "not to consider a PILOT for large wind projects like Alle-Catt," Heberling said.