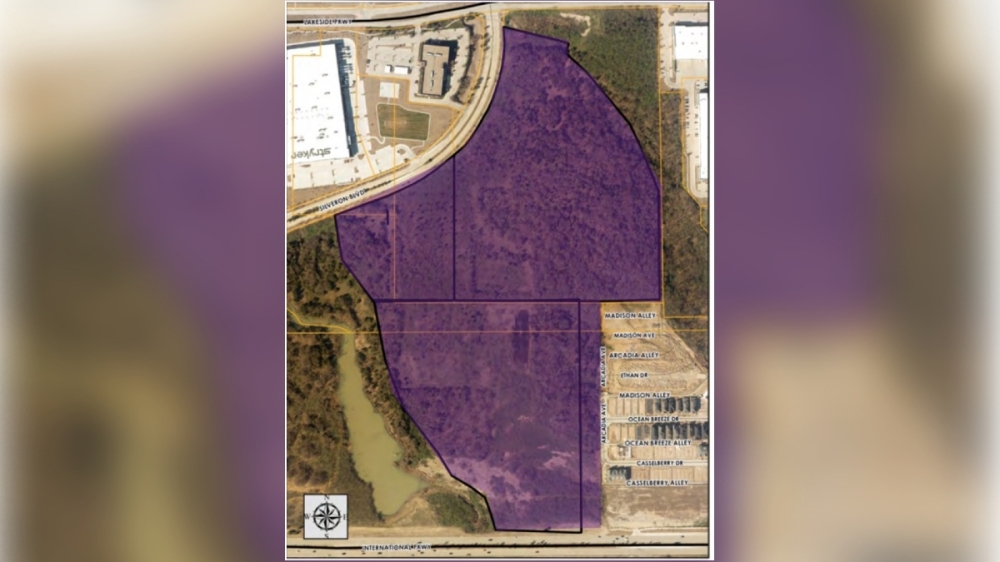 Flower Mound City Council denies rezoning of two proposed buildings in Lakeside business district
The project was proposed on 66.9 acres located north of International Parkway and east of Silveron Boulevard. (Courtesy of the City of Flower Mound)
Flower Mound City Council has rejected a zoning change request that would have allowed office and warehouse use for two new buildings as well as park space in the Lakeside business district.
The council voted 4 to 1 at its Oct. 4 meeting against the land use change for the property north of the International Parkway and east of Silveron Boulevard.
The plaintiff, Duke Realty, proposed two buildings with offices and warehouses on 66.9 acres. The buildings are said to be 522,080 square feet and 160,160 square feet, respectively, according to city documents. The proposal also featured a 6.6-acre natural buffer of green space as well as a 12.4-acre park with a walking trail, according to the developer.
The vote before council was to change the zoning from commercial campus uses to industrial campus uses.
The request was dismissed without prejudice 4-1 on the basis of inconsistencies with the master plan, according to the discussion. Pro Mayor Tem Ben Bumgarner was the only council member to vote against the refusal. Denial without prejudice allows the applicant to reapply earlier than the standard one-year reapplication deadline.
Duke Realty could amend its application and possibly be expedited for faster approval, Mayor Derek France said in an email.