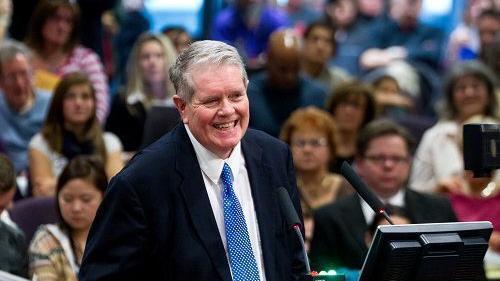 Former Omaha Mayor Mike Boyle Dies at 77 | Local government
Former Omaha Mayor Mike Boyle, who served on Douglas County Council, died of complications from pneumonia on Monday. He was 77 years old.
His daughter Maureen Boyle, a doctor who also sits on the county's board of directors, told a World-Herald reporter in March that her father was recently diagnosed with non-small cell lung cancer.
He had started treatment at Nebraska Medical Center.
"He doesn't feel sick at all," she said at the time. "He's just plugging in like he always has been. "
Boyle underwent successful surgery for lung cancer in August, a county spokeswoman said.
Omaha lawyer James Martin Davis has died at 75
Funeral services will be announced later, the spokesperson said.
Jane Fleming Kleeb, President of the Democratic Party of Nebraska, said in a tweet Monday that the State Democratic Party "conveys our love to the Boyle family. Commissioner Boyle was a political giant bringing compassion and justice to every post he occupied. Everyone will miss him. "
Boyle, a lawyer, was mayor of Omaha from 1981 to 1987, the city's 43rd mayor. In November, he was elected for his sixth term on Douglas County Council. The Democrat was first appointed to the board of directors in 1997 and represented District 1, which includes much of southern Omaha and part of downtown Omaha.