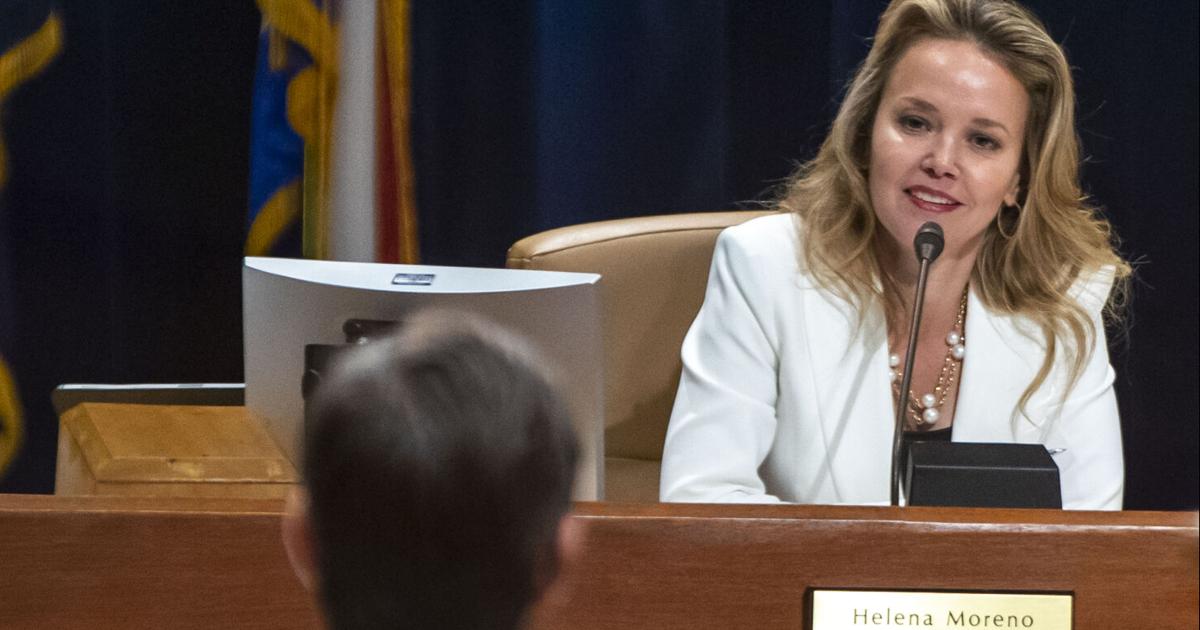 New Orleans City Council calls for investigations into 'mayor's fund' contracts | Local policy
The New Orleans City Council on Wednesday called on the city inspector general's office to investigate several initiatives advanced by Mayor LaToya Cantrell's administration, while ordering an immediate halt to distributions from a land trust controversial.
The board unanimously passed the resolutions at a special meeting after nearly four hours of sworn testimony from Jonathan Rhodes, an administration official who is the subject of bid-rigging allegations stemming from the recent city 'smart city' supply.
Rhodes, director of the city's public services office, answered questions centering on his dealings with members of the winning coalition, as well as a private entity he formed with fellow city employee Christopher Wolff.
After Rhodes' dismissal, council voted to ask Inspector General Ed Michel to launch a parallel investigation into smart city procurement misconduct, as well as any city money given to private entities through one-year deals that escape board scrutiny.
The council originally scheduled the special meeting to launch its own inquiry into smart city procurement, the first time in three decades the council has invoked its authority to issue subpoenas and conduct investigations. The resolutions calling for inspector general investigations, as well as a freeze on distributions from the Wisner land trust, were added after revelations that Cantrell is paying nearly $1.1 million to Forward Together New Orleans, a non-profit organization created by the mayor.
"There is only so far the powers of the council can go. And that's why we think it's important that the Inspector General's Office, through its powers, start looking into what happened," said General Counsel member Helena Moreno, who led the interrogation of Rhodes.
Michel said in an email that his office does not comment on potential or ongoing investigations. The Cantrell administration did not respond to a question about the resolutions.
Funding for Forward Together comes from two one-year "cooperative effort agreements" that Cantrell signed this month, for violence prevention and workforce development programs.
Forward Together will oversee payroll and accounting as a "tax agent," keeping just over $70,000 in administrative costs.
More than $350,000 of Forward Together funding will come from the city's general fund, with the rest coming from the Wisner Trust, which typically generates about $2 million a year from oil and gas leases. The city distributes this money to charities.
Council is pursuing administration over the fate of the trust, which splits rental income among multiple entities, in addition to allocating to city charities. A court ruled in 2014 that the trust should be dissolved, which council members said should result in all proceeds from the lease going to the city.
The trust, which meets privately, remained intact despite the court ruling, and Cantrell in 2020 agreed to continue it indefinitely.
"These resources are assets of the city to be used for a variety of things that we all have priorities for. And it's important for us to address these issues before we continue to haphazardly spend trust money," said board member JP Morrell.
Imploded relationship
The wave of aggressive board actions underscored just how bad relations between the board and the administration have been since the start of Cantrell's second term in January, with increasingly bitter disputes erupting every week.
Already this year, the board has frozen about $10 million from departmental budgets; called an election for a charter amendment that would make mayoral nominations subject to council approval; and thwarted Cantrell's attempt to waive a residency requirement for some city employees.
Council members also officially voted in favor of a bill in the Legislative Assembly that would allow them to monitor Sewerage & Water Board billing, a move Cantrell called "ridiculous".
The most vocal critics of the Cantrell council – including Moreno, Morrell and District A council member Joe Giarrusso – say the moves were necessary to control an administration they accuse of operating in secret, not executing basic government functions and, more recently, possibly engaging in misconduct. .
A potential bright spot emerged when Giarrusso announced at the meeting that the administration had agreed to spend $15 million from a debt certificate for a new S&WB substation, a critical infrastructure project aimed at to modernize the supply of the city's old drainage system. Although this is only about half of the construction funding shortfall, it represents a step forward in negotiations between the administration and the council over where the money will come from.
For his part, Cantrell accuses council members of strangling his administration's priorities and, by extension, hampering the delivery of city services. In a letter released at the start of Wednesday's meeting, Cantrell accused the council of abusing its power by seeking to "parade a series of officials under investigation."
"The climate of obstruction is far too similar to what we have seen at the federal level. It is negative and divisive at a time when our people are already traumatized by four years of ugliness and dysfunction in Washington," Cantrell wrote.
At the end of the meeting, Morrell retaliated with his own letter, which he read from the dais. Morrell said the administration was too preoccupied with controlling information and resources, shielding officials from public view and rejecting criticism.
"(The administration would rather) send letters to council members and talk to them, than hear the concerns of the districts and the citizens they represent," Morrell said in his letter, which was co-signed by the member. of District B Council Lesli Harris.