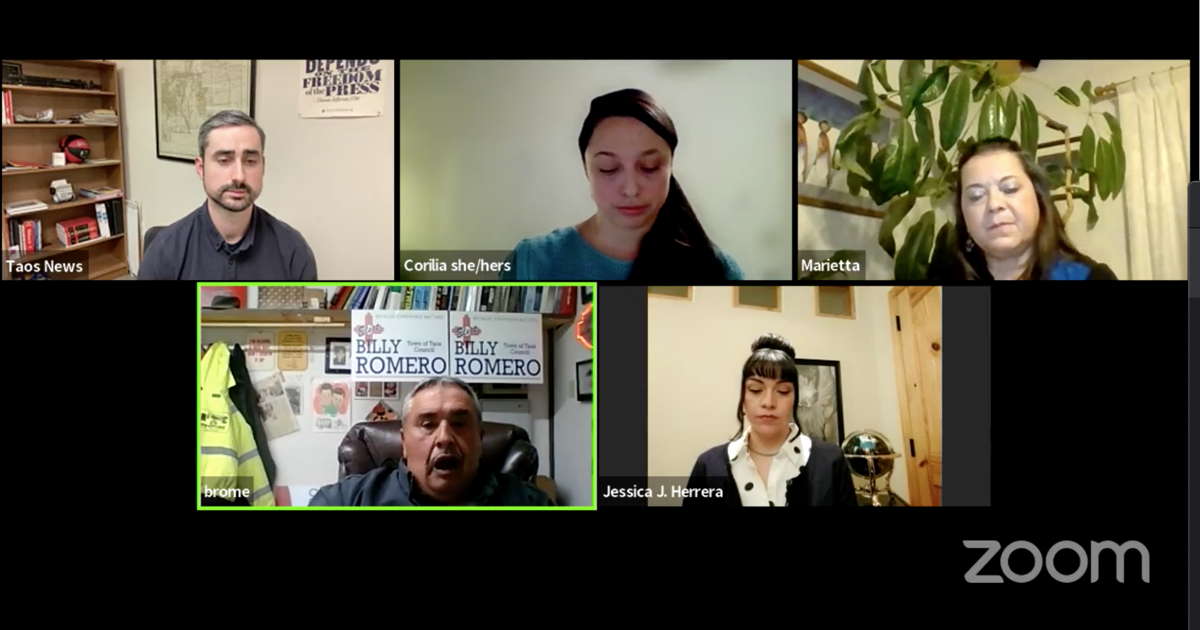 Taos City Council Candidates Discuss Future of Taos | Politics
The four candidates hoping to fill the next two Taos City Council positions discussed their views on the region's future at a forum on Monday evening (January 31) hosted by Taos News and the Chamber of Commerce of Taos County.
Taos News Editor John Miller moderated the discussion and asked questions about the Taos Regional Airport, the closure of the Taos Recycling Center, the city's relationship with Taos Pueblo, and the state of infrastructure from the city. At numerous points, candidates Jessica Herrera, Corilia Ortega, Billy Romero and Marietta Fambro gave answers that showed how they might vote differently on important issues if elected.
The first two questions of the evening came from Taos High School senior Lilith Safford, who asked how the city could better engage with young voters.
Herrera – who has no previous political experience but has lived in Taos all her life – began by saying that she hopes to stimulate more conversations about politics through local media and do a better job of "making everyone what's going on".
Ortega, another born-and-raised Taoseña and also a political newcomer, said she hopes to "educate people and try to get them to see what's going to happen in the city."
"As a young person, you have the right to be involved," Romero said and stressed the importance of gathering feedback from young voters to help generate new ideas. Romero owns and operates Romero Rio Grande Propane and previously served on the City of Taos Planning and Zoning Committee.
Fambro, the city's current chief financial officer, said "we should go back to basics" and look for new ways to get information out to the public.
Romero said commercial jobs, like plumbing and electrical work, would always provide stable jobs in Taos and a pathway for young people to pursue careers in their hometown. He said young people should also have access to affordable housing. "We have to make sure that a certain percentage of the buildings is left to the workforce," Romero replied.
"It starts with working with UNM-Taos," Fambro added. "Not everyone will get a master's degree. We need plumbers and electricians…we need smart growth," she said.
Affordable housing was repeatedly mentioned by candidates in response to various questions. Fambro said it would be important for the City of Taos to continue to tightly regulate short-term rentals, which were limited to 120 by a city ordinance that took effect last year.
Herrera also acknowledged the problem of affordable housing. She suggested keeping rent prices lower by placing historic landmarks in neighborhoods.
Ortega, who has a master's degree in clinical psychology and a background in violence prevention and agriculture, said she would focus on a "community-wide" initiative and encouraged locals who own property to "not to sell their land".
She proposed a lottery system for short-term rental licenses that would give preference to local landlords. "Airbnb has a place in our city," she said, but distinguishing between an Airbnb host and a "second or third home rental."
Romero said he worked on the issue of affordable housing and short-term rentals during his tenure on the planning and zoning committee. He proposed that owners of short-term rentals with multiple licenses start paying commercial rates to maintain their properties. Romero said he would continue the moratorium on the number of AirBnBs allowed in town.
The forum exceeded the scheduled end time at 7:30 p.m. and ended at 8 p.m.
For a full breakdown of the forum, see this Thursday's print edition of Taos News.